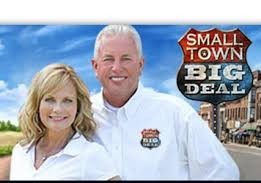 Wow, what an opportunity.
My wife, Rhonda, and I recently made a trip to Ocilla, Georgia, to meet with Rodney Miller, the president and Co-host of the TV Show, Small Town Big Deal.
We finalized our plans to begin a wonderful writing project, telling the story behind the show.
We really enjoyed the trip, as we used to live in Georgia. The first place we lived while there, and where our oldest daughter was born, is just about an hour and-a-half north of Ocilla, and the second place we lived, where the other three children were born, is just about an hour and-a-half north of there. So, we truly got to combine business with pleasure.
It was great to see old friends and to get a start on this project. It will be a collaborative work. I will serve as the coordinating author. The co-hosts, Rodney Miller, and Jann Carl will serve as collaborative authors.
America's TV Program
The first program aired in 2012 on RFD Network. It still airs there, but it also appears in many major markets as a syndicated program. It is one of the fovorite things for us to record on our DVR through our satellite provider.
Since many of America's small towns or rural communities are often overlooked by the main-stream media outlets, Small Town Big Deal focuses on the small communities that sometimes house some of America's best-kept secrets. Many outlets focus on the huge metropolitan areas like New York and Los Angeles, and that is OK, but we have here the stories from many areas that are sometimes referred to as "the forgotten America."
As such, this truly has been dubbed, "America's TV Program."
Rodney started working on the program in 2010 by shooting a pilot with a proposed co-host. After a while, the arrangement did not work out, and he had to shoot another one by himself.
He started the first season as just the single host, but something unusual happened on the day they aired their first episode of that season in Septemeber of 2012. They received an email from a former Entertainment Tonight weekend anchor expressing interest in the show.
That is where Jann Carl came in. Roger, Rodney's friend from church who later became the executive producer, read the email first. He thought it might be a prank, but then he showed it to Rodney.
Jann loved the idea of the show. She said that she "always wanted to be Charles Kuralt." You may remember some of his segments entitle "On the Road with Charles Kuralt." She also said, "I promise you I am not a stalker."
Rodney contacted her and, after several conversations, she became the co-host and part owner of the program.
Rodney says this brought instant credibility and helped a great deal with the attempt to gain sponsors for the show.
Rhonda and I were able to meet with Jann when she visited her family in the St. Louis area in early December. We were able to talk for a couple of hours.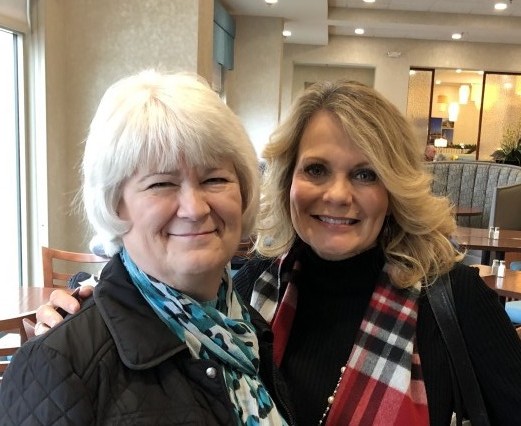 Rhonda's complement was: "Jann is just as sweet as she appears to be on TV.
Though we don't have a picture, we were able to meet her mother too.
Many of you will remember Jann's 14 years with Entertainment Tonight where she became the weekend anchor for the show.
Not to be outdone, I really want to get my picture in here too.
The book shares about both Rodney's and Jann's pre-Small Town Big Deal life.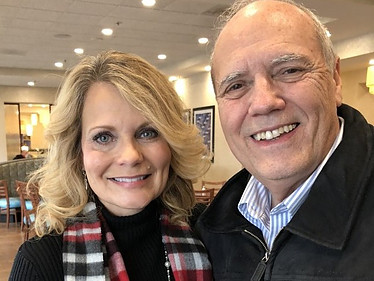 I consider it a great privilege to work with both Jann and Rodney, and I look forward to meeting some of the members of the production team.
From Despair to Success
While the show enjoys a good deal of success today, getting there was not always easy. After all, if it were easy, everybody would be doing it.
Rodney shares his setbacks and times of despair. He especially recalls a time, after show had been in production for a few years. The show seemingly was about to go under. Either they were going to have to raise more money or get the show in the black on their own. They had to make some hard decisions, and to inform all those involved in production of those decisions. Fortunately many stuck with the project, and they weathered through the storm. Then the program became profitable on its own.
The Dreams
Rodney's company asked him to do a TV commercial when he was CEO. He was reluctant to do that. In fact, he tells of how he was really shy as a young boy and how one of the happiest days of his life came when his high-school guidance counselor told him that speech was no longer required for him to graduate. Yet, he agreed to do the commercial. He said he fell in love with the camera.
Then a few years later, he had the idea for a TV show. Not knowing anything about TV, he really didn't think anything would come of. Then one day at church he found out that his friend, Roger, had great experience and knew very much about TV production.
They started talking and finally decided they could try such a venture. Rodney wanted programming that was family friendly and that could highlight the great strengths of small-town and rural life.
The Incredible Journey, Beating Overwhelming Odds
As mentioned earlier, there were many ups and downs, and there were many times they could have quit and thrown in the towel. There were many discouragements. The great thing about the team came in the timing of the discouragements. They were never all down at the same time. They and members of their families encouraged each other.
Jann's friend told her they "had created a unicorn." Small Town Big Deal is a one of a kind almost mythical and legendary creature like a unicorn.
Most TV programs are owned by big production companies with a lot of financial backing before the projects get started. Jann, Rodney, and their investors own the program.
One sponsor turned them down for a sponsorship, but they would not let them leave either because they were intrigued by their business model
There came some turning points where they could have gone under, but they remember the red-letter day when they could cover all costs with their present capital and sponsorships.
Conclusion
Many people dream, but, more often than not, many never see their dreams become reality. Small Town Big Deal is the story of the dreams of a farm-boy turned CEO, and a girl from Carthage Missouri turned movie star who says she always wanted to be "Charles Kuralt." As you follow their incredible journey to beat overwhelming odds to produce a successful TV show, you will be inspired to go for your dreams. You'll learn to have a dream, to be open to opportunities when they present themselves, to be creative and to regroup when necessary. Most of all, though, you will see the value of hard work and perseverance. Enjoy this great story, and then create one of your own!