Take a chance in business. Sometimes (many times) you have to do that to make progress.
In baseball, you can say that you miss all the pitches you do not swing at. In football, you miss every possible completion you do not throw. In basketball, you miss all the shots you do not take.
When it comes to business, you miss all the sales you do not ask for. You miss all the opportunities you do not attempt.
Thank you to Son-in-Law Brian Barker for cutting down a hickory tree in our back yard. We have wanted it down for quite a while. We either want to build an add-on dining room, or at least a deck. at some point.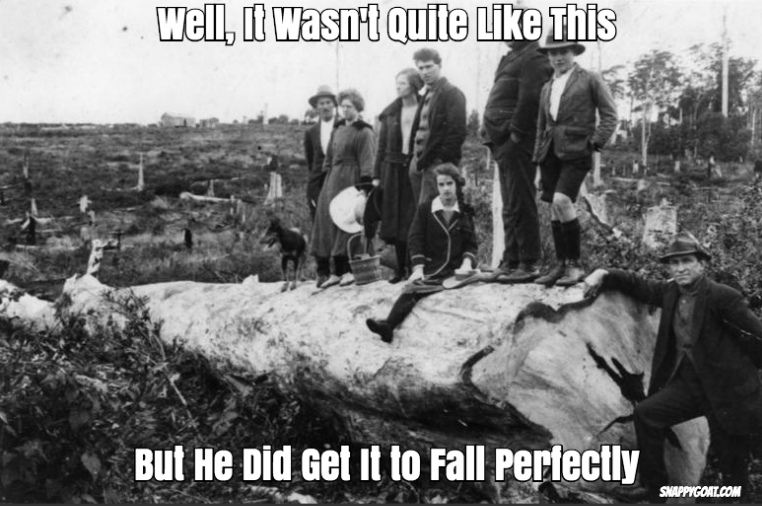 He looked doubtful when he saw where it was located, just three lawn-mower widths away from our kitchen window.
We had noticed the leaves had spots on them, and we wondered if the tree were coming down with some kind of disease. He had asked about cutting down a tree in our woods for firewood. I don't think he expected for us to suggest a tree in our yard.
He had to land the tree between our house and a pear tree, and it had to miss a pine tree at the edge of the yard.
Brian could have just not attempted to fall the tree. In fact, he suggested I talk to one of our mutual friends to see if he could suggest someone to do it for us. I think Brian was really worried about how we would feel if it went several feet farther south than where we were looking. If it did, it would hit the corner of our house and possibly tear off a gutter. I was able to persuade him that I really hoped he would try it, and we would not hold it against him if it did fall off course a little bit.
Brian said, "When you hear the saw start up, tell the girls (my wife, Rhonda, and his wife, Rachelle (our daughter)) to get out of the kitchen. … I'm serious."
It fell perfectly!
Take a chance in your business efforts, just like Brian did with the tree. Sometimes, you will fail, but you will learn something. Sometimes, though, a surprising opportunity may come your way. You may be afraid to follow up on it. If you don't, though, you will never know if it could have been good for you.
Maybe your skills are not good. They will never improve if you don't try.
Be wise. Do your due diligence, but when the time seems mostly right, take a chance. The results may pleasantly surprise you. Maybe it will fall perfectly!
Would you like to write a book? Every book you do not attempt has no sales. It has no impact on anyone. Have you never done it before? Are you willing to take a chance? Would you like some help from some who have gone through the scary path before you? Would you like some time-management skills to help you in your writing?
You could check out some more writing tips here.
When have you taken a chance in business? How did it help you? Do you have a breakthrough moment, you would like to share with us?
We would love to hear from you in the comments section below.